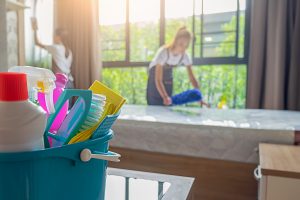 Spring is in the air! As the weather warms and the days lengthen, it's time to start thinking about giving your home a thorough cleaning and tending to the long list of household chores piling up over the winter. If you plan on calling in professionals to help you with some of these tasks, you may be targeted by one of the many scams that are rampant this time of year. Below, we've listed four of the most prevalent scams to watch out for this season. Stay safe!
The bait-and-switch scam
This scam can be pulled off with almost any service but is especially common with professional cleaning services of every kind, including carpet cleaners, chimney cleaners, air duct cleaners and more.
How it plays out: You'll see or hear a commercial advertising super-low rates on a cleaning service, such as four carpeted rooms professionally cleaned for just $29. The price will undercut the competition by a generous margin, and you won't waste any time calling to book a slot with the service. Unfortunately, when the cleaners come around to clean your carpets, they'll hit you with unexpected fees for vague factors like "high-traffic areas" or "preconditioning," which brings the price up by several hundred dollars.
Protect yourself: The best way to steer clear of a bait-and-switch scam is to avoid services that offer prices that are simply too good to be true. It's also a good idea to do some research on any new cleaning agency you hire to work in your home. Check out online reviews on the company and look up its listing on the BBB website. Ask specific questions about possible extra charges and fees, and speak to previous customers if you can. It's best to get the terms and pricing of the job in writing before the agency sends its workers to your home.
The bogus house-cleaning agency
This scam is perhaps the most nefarious one you may come across this spring.
How it plays out: You're eager to get your house into spring shape, so you decide to hire a house-cleaning agency to help out. Unfortunately, the agency is bogus, and the "house cleaners" you graciously welcome into your home end up robbing you blind the minute your back is turned.
Protect yourself: Never allow workers into your home without proper references and research. Check out any agency you want to use online, look up their business on the BBB website and ask for names and numbers of previous clients. It's best not to leave the house cleaners alone in your home. For an extra level of protection, you can set up a nanny cam in the rooms the cleaners are servicing, and make sure to let them know that you have eyes on them at all times.
Scammy cleaning products
Spring is the season of blossoming flowers, heated baseball games … and scammy door-to-door salespeople.
How it plays out: A friendly salesperson knocks on your door, offering a "miracle cleaning solution" at a great price. They'll claim the solution will make your home sparkle with minimal effort, when in truth, the "miracle solution" is nothing more than a mixture of water and some scented hand soap.
Protect yourself: Stick to the cleaning products you always use and be super-wary of anyone hawking products you've never heard of before.
The pay-up-front scam
This scam can easily lure unsuspecting homeowners into forking over hundreds of dollars — for nothing.
How it plays out: A private vendor offering cleaning services of any kind demands full, upfront payment before they start their work. They insist on being paid in cash, or with a prepaid debit card or money order. Once they've collected their payment, they'll go AWOL, and you'll never see them or your money again.
Protect yourself: There's never a good reason to prepay in full for a service. At most, a vendor can rightfully ask for a deposit, which will go toward the total fee. Also, one of the most glaring signs that you're dealing with a scammer is being asked to pay with cash or prepaid debit card or money order. If a vendor insists on these means of payment, run the other way.
Don't let scammers get to you this spring! Stay vigilant, be wary of those you hire, and stick to cleaning out your home — not your wallet.