Hometown Community Spirit, Hometown Community Pride
ROUTING NUMBER: 211287971
How does a Credit Union work?
Joining a credit union is a lot like becoming a customer at a bank. But there is a BIG difference—when you join a credit union, you become not just a member, but an OWNER. The credit union's members are its only owners. Lincoln Maine FCU is a non-profit cooperative where members pool their financial assets to provide funds for loans and other financial services available to members only. The universal philosophy of the credit union movement is: "Not for Profit — Not for Charity — But for Service." Members are the heart of the credit union and the sole reason the credit union exists.
How do I know if I am eligible to becoming a member of Lincoln Maine FCU?
The field of membership is comprised of those people having the following common bond: Persons who live, work, or worship in Penobscot County, ME; members of their immediate family and organizations of such persons.
Interested in becoming a member of Lincoln Maine FCU?
To become a member apply online HERE, or simply bring in your photo ID (driver's license, or state or government issued ID) and your social security card, or bring in your a passport, and our New Accounts Representative will work with you to establish your share account in our credit union. There is a one-time $5.00 fee to open an account, and you are required to maintain at least a $25.00 prime share balance.
Meet the Staff: (In no particular order)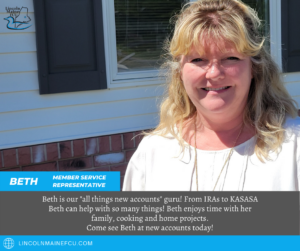 Beth is our "all things new accounts" guru! From IRAs to KASASA Beth can help with so many things! Beth enjoys time with her family, cooking and home projects.
Come see Beth at new accounts today!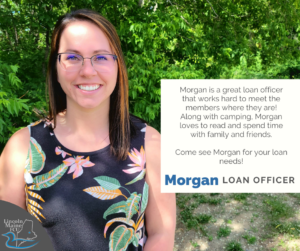 Morgan is a great loan officer that works hard to meet the members where they are! Along with camping, Morgan loves to read and spend time with family and friends.
Come see Morgan for your loan needs!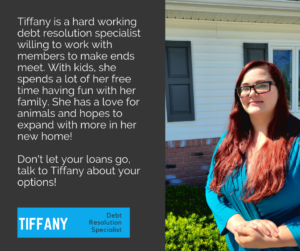 Tiffany is a hard working debt resolution specialist willing to work with members to make ends meet. With kids, she spends a lot of her free time having fun with her family. She has a love for animals and hopes to expand with more in her new home!
Don't let your loans go, talk to Tiffany about your options!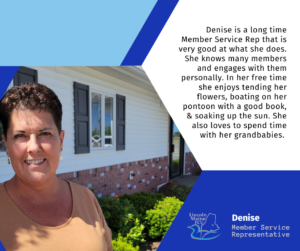 Denise is a long time Member Service Rep that is very good at what she does. She knows many members and engages with them personally. In her free time she enjoys tending her flowers, boating on her pontoon with a good book, & soaking up the sun. She also loves to spend time with her grandbabies.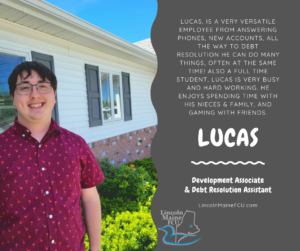 Lucas, is a very versatile employee from answering phones, new accounts, all the way to debt resolution he can do many things, often at the same time! Also a full time student, Lucas is very busy and hard working. He enjoys spending time with his nieces & family, and gaming with friends.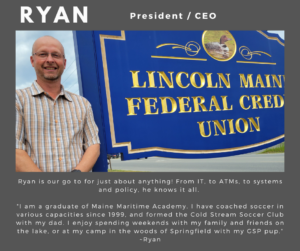 Ryan is our go to for just about anything! From IT, to ATMs, to systems and policy, he knows it all.
"I am a graduate of Maine Maritime Academy. I have coached soccer in various capacities since 1999, and formed the Cold Stream Soccer Club with my dad. I enjoy spending weekends with my family and friends on the lake, or at my camp in the woods of Springfield with my GSP pup." ~Ryan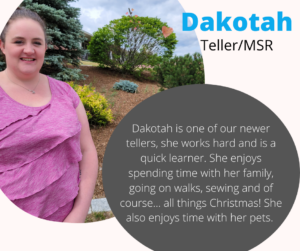 Dakotah is one of our newer tellers, she works hard and is a quick learner. She enjoys spending time with her family, going on walks, sewing and of course… all things Christmas! She also enjoys time with her pets.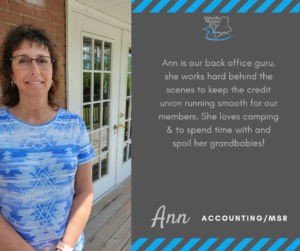 Ann is our back office guru, she works hard behind the scenes to keep the credit union running smooth for our members. She loves camping & to spend time with and spoil her grandbabies!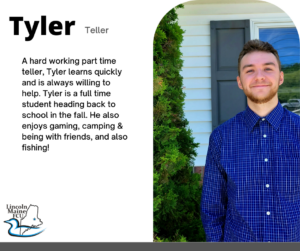 A hard working part time teller, Tyler learns quickly and is always willing to help. Tyler is a full time student heading back to school in the fall. He also enjoys gaming, camping & being with friends, and also fishing!
Enthusiastic is only the beginning of introducing our dedicated loan officer, Sherry. Having spent what may seems like her whole life at LMFCU Sherry knows her members on a personal level. Sherry loves the members and the members love her!
Sherry loves to spend time with her kids and granddaughter. One of her favorite things is to just be out on her pond!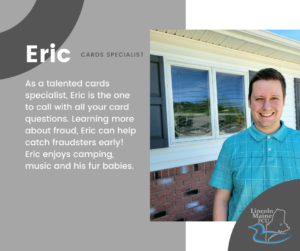 As a talented cards specialist, Eric is the one to call with all your card questions. Learning more about fraud, Eric can help catch fraudsters early! Eric enjoys camping, music and his fur babies.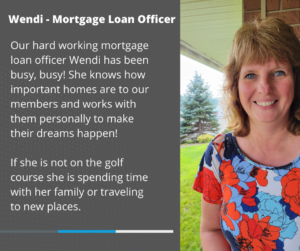 Our hard working mortgage loan officer Wendi has been busy, busy! She knows how important homes are to our members and works with them personally to make their dreams happen!
If she is not on the golf course she is spending time with her family or traveling to new places.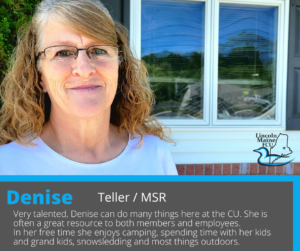 Very talented, Denise can do many things here at the CU. She is often a great resource to both members and employees.
In her free time she enjoys camping, spending time with her kids and grand kids and most things outdoors.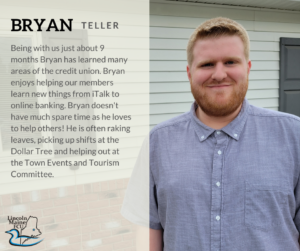 Bryan has learned many areas of the credit union. Bryan enjoys helping our members learn new things from iTalk to online banking. Bryan doesn't have much spare time as he loves to help others! He is often raking leaves, picking up shifts at the Dollar Tree and helping out at the Town Events and Tourism Committee.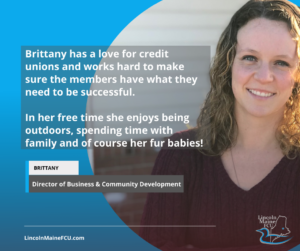 Brittany has a love for credit unions and works hard to make sure the members have what they need to be successful.
In her free time she enjoys being outdoors, spending time with family and of course her fur babies!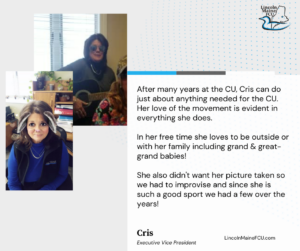 After many years at the CU, Cris can do just about anything needed for the CU. Her love of the movement is evident in everything she does.
In her free time she loves to be outside or with her family including grand & great- grand babies!
She also didn't want her picture taken so we had to improvise and since she is such a good sport we had a few over the years!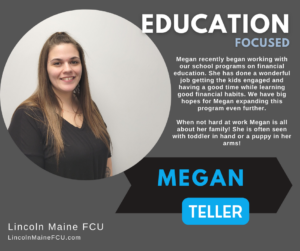 Megan recently began working with our school programs on financial education. She has done a wonderful job getting the kids engaged and having a good time while learning good financial habits. We have big hopes for Megan expanding this program even further.

When not hard at work Megan is all about her family! She is often seen with toddler in hand or a puppy in her arms!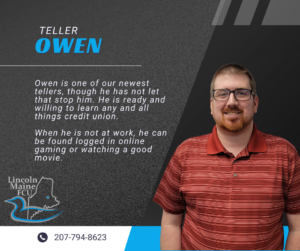 Owen is one of our newest tellers, though he has not let that stop him. He is ready and willing to learn any and all things credit union.
When he is not at work, he can be found logged in online gaming or watching a good movie.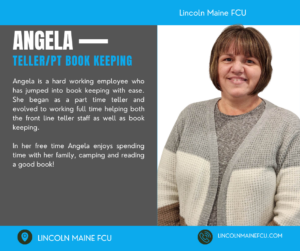 Angela is a hard working employee who has jumped into book keeping with ease. She began as a part time teller and evolved to working full time helping both the front line teller staff as well as book keeping.
In her free time Angela enjoys spending time with her family, camping and reading a good book!