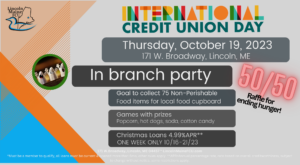 International Credit Union Day (ICU Day) is celebrated every third Thursday in October, this year it is celebrated on October 19th. ICU Day started in 1948 that means this is the 75th anniversary.
ICU Day was created to raise awareness and to celebrate what makes Credit Unions unique. Credit Unions are a non-for-profit financial cooperative that is owned by its members, that is one of many reasons they are unique. A few more ways they are different than other financial institutions are that they put their members first. They offer lower fees, they also have better interest rates, and they can help their members during tough times.
As of March 31,2023, there were 4712 federally insured Credit Unions with 136.6 million members. There are many ways that ICU Day is celebrated. Open houses, contests, picnics and sometimes parades just to name a few. Last year here at Lincoln Maine Federal Credit Union we offered a few different things to celebrate. We offered Christmas loans and skip-a- pay for those that qualified. We also hosted an in-branch party with snacks, prizes, giveaways and games. We even had a virtual party on Facebook where participating members could win prizes.
Here at Lincoln Maine Federal Credit Union, we take pride in what we do and our members come first.