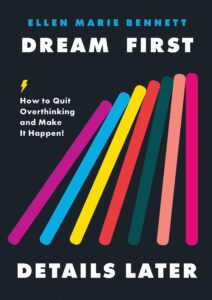 Title: Dream First, Details Later: How to Quit Overthinking & Make It Happen!
Author: Ellen Bennett
Hardcover: 240 pages
Publisher: Portfolio
Publishing date: April 27, 2021
Who is this book for? 
Wanna-be entrepreneurs wondering how to get started.
Anyone looking for inspiration and guidance on making their dreams come true.
What's inside this book?
Bennett's incredible story of how she built a multimillion-dollar company by leaping into the unknown and accepting a challenge from her boss.
Motivation, tips and practical advice for making your personal dreams come true.
4 lessons you'll learn from this book: 
How to ignore your inner worrier and take action.
How to gather courage to venture outside your comfort zone.
How to use creative problem-solving to conquer the inevitable challenges you'll encounter during your journey.
How to transition from "flying by the seat of your pants" to the "well-oiled machine" stage.
3 questions this book will answer for you: 
Can I really make my dream come true through pure determination and hard work?
What should be my first step toward making my dreams come true?
Do I need to have all the answers in place to make my dream a reality?
What people are saying about this book: 
"Ellen Bennett is the platonic form of a go-getter who inspires go-getter after go-getter to become a better go-getter. In an afternoon with Ellen there is never a dull moment, so be prepared to be inspired, motivated and delighted by her humor, wit and grit. If I could bottle her productivity and enthusiasm I would, but since I can't, I will just read her book." —Zooey Deschanel
"I love, love, love this book! The true story of a true heroine for our times — bold, brash, and entirely honest about the downs and ups of making dreams come true." —Angela Duckworth
"This book is delicious. It's inspiring, beautiful and actionable, and it might be just what you need to unlock the door and help you get going." —Seth Godin
"Ellen Bennett's infectiously inspiring story of grit and entrepreneurial spirit, Dream First, Details Later is a powerfully honest and colorful account of her wild journey from line cook to business owner. In it, she gives license to break free from self-doubt and to seize the wheel for your own journey to success." —Danny Meyer
"Dream First, Details Later is a rare book that combines inspiration with action. Learning Ellen's story is enjoyable on its own, but here she's gone above-and-beyond to leave readers with practical advice. I will be recommending this one far and wide!"  —Chris Guillebeau